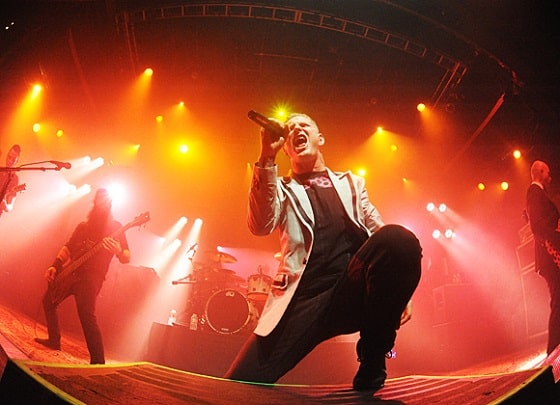 Il prossimo anno uscirà l'atteso album degli STONE SOUR. Massima riservatezza su brani e musica, ma il cantante Corey Taylor ha rivelato il titolo dell'album che sarà "Meanwhile In Burbank".  Burbank è la città californiana in cui si trova lo studio del batterista Roy Mayorga, in cui verrà appunto registrato il nuovo album.
Mayorga si è costruito premurosamente il suo studio a Burbank. Studio nel quale suonare, divertirsi, ascoltare musica, senza pressione e orologi. Just fun. E' proprio questa atmosfera che ha ispirato gli STONE SOUR per il nuovo album "Meanwhile In Burbank".
E così si scopre che gli STONE SOUR sono a loro volta fan di altri. Ascoltano: "Creeping Death" dei METALLICA,  "Love Gun" dei KISS,  "Heading Out To The Highway" di JUDAS PRIEST, "In Your Eyes" di PETER GABRIEL.
Come dice Corey Taylor, non solo ascoltare ma anche suonare le cover di altri. Così da poter vestire i panni dei propri eroi musicali. Così da divertirsi davvero, senza sentire la pressione della tua canzone. Solo relax. Così da ricordarsi sempre che prima di un musicista cantante o altro, si è stati e si continua ad essere semplicemente fan. Perché tutto nasce perché sei stato fan di qualcuno.
Gli STONE SOUR hanno completato il tour per promuovere il loro ultimo album "House Of Gold And Bones", diviso in due parti 2012 e 2013.
Il chitarrista statunitense Jim Root, per la prima volta dopo 5 anni, non ha partecipato a quest'ultimo tour impegnato con l'ultimo disco degli SLIPKNOT. È stato dunque sostituito da Christian Martucci. Resta un po' il mistero sul reale motivo di questa sostituzione visto che successivamente Root dirà che è stato rimpiazzato con una semplice telefonata e che non ha mai capito il reale motivo della sostituzione.
Ad ogni modo Root e Taylor continuano a lavorare insieme con il nuovo album degli SLIPKNOT ".5: The Gray Chapter".
E mentre ascoltiamo questo degli SLIPKNOT, aspettiamo l'uscita di "Meanwhile In Burbank".
Lascia un commento
commenti