Qui sopra potete ascoltare la demo acustica di "Been A Son" di Kurt Cobain.
La canzone è tratta da "Montage of Heck: The Home Recordings", che uscirà il 13 Novembre via UMe su CD, cassetta e digitale. Il 4 Dicembre invece uscirà l'edizione in vinile.
La standard edition dell'album solista di Kurt Cobain "Montage Of Heck: The Home Recordings", includerà le cover di "And I Love Her" dei BEATLES, una delle prime demo di "Sappy" dei NIRVANA, una canzone chiamata "Letters to Frances", più altre dieci tracce.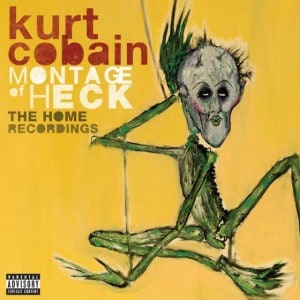 Standard edition:
01. The Yodel Song
02. Been A Son
03. The Happy Guitar
04. Clean Up Before She Comes
05. Reverb Experiment
06. You Can't Change Me/ Burn My Britches/Something In The Way
07. Scoff
08. Desire
09. And I Love Her
10. Sappy
11. Letters To Frances
12. Frances Farmer Will Have Her Revenge On Seattle
13. She Only Lies
Deluxe edition:
01. The Yodel Song
02. Been A Son (early demo)
03. What More Can I Say
04. 1988 Capitol Lake Jam Commercial
05. The Happy Guitar
06. Montage Of Kurt
07. Beans
08. Burn The Rain
09. Clean Up Before She Comes (early demo)
10. Reverb Experiment
11. Montage Of Kurt II
12. Rehash
13. You Can't Change Me/Burn My Britches/Something In The Way (early demo)
14. Scoff (early demo)
15. Aberdeen
16. Bright Smile
17. Underground Celebritism
18. Retreat
19. Desire
20. And I Love Her
21. Sea Monkeys
22. Sappy (early demo)
23. Letters To Frances
24. Scream
25. Frances Farmer Will Have Her Revenge On Seattle (demo)
26. Kurt Ambiance
27. She Only Lies
28. Kurt Audio Collage
29. Poison's Gone
30. Rhesus Monkey
31. Do Re Mi (medley)
Lascia un commento
commenti