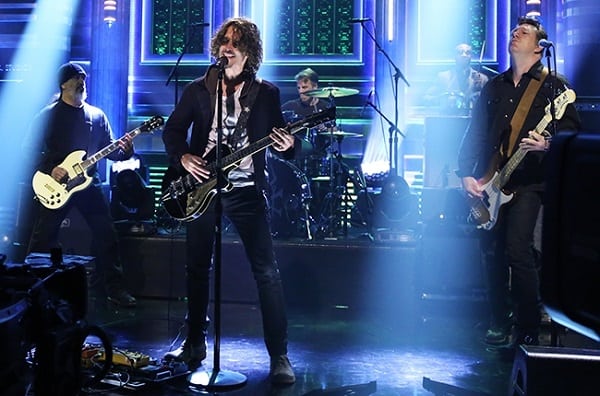 Il 24 Novembre, i SOUNDGARDEN rilasceranno l'attesa collezione di rarità dal nome "Echo Of Miles: Scattered Tracks Across The Path". Tra le 7 tracce mai rilasciate, c'è anche una nuova canzone, "Storm", registrata a Maggio di quest'anno col produttore Jack Endino a Seattle.
La collezione che include B-sides, tracce mail rilasciate, pezzi strumentali, cover e demo, è stata curata personalmente dal chitarrista dei
SOUNDGARDEN
,
Kim Thayl
, che dice:
"E' stato divertente collezionare e compilare le canzoni in questi decenni. Personalmente ho menzionato questo progetto molte volte in tutti questi anni."
Nel disco 1, soprannominato Originali, sono presenti oltre a B-sides anche due nuove canzoni mai rilasciate: "Kristi" e "Storm".
Nel disco 2, sono presenti varie cover delle band che i SOUNDGARDEN amano, come i THE BEATLES, THE ROLLING STONES, THE DOORS, THE STOOGES, THE RAMONES e i DEVO.
Nel disco 3 sono presenti pezzi strumentali, remix e demo che includono "The Telephantasm (Resurrection Remix)" di Steve Fisk, "Twin Tower" scritta da Matt Cameron che è stata originariamente registrata a Seattle nel 1988 durante le sessioni di "Louder Than Love" e "Night Surf", un pezzo strumentale suonato dal bassista di Ben Shepherd.
"Echo Of Miles: Scattered Tracks Across The Path" track listing:
CD 1 – Originals
01. Sub Pop Rock City
02. Toy Box
03. Heretic
04. Fresh Deadly Roses
05. HIV Baby
06. Cold Bitch
07. Show Me
08. She's A Politician
09. Birth Ritual
10. She Likes Surprises
11. Kyle Petty, Son of Richard
12. Exit Stonehenge
13. Blind Dogs
14. Bleed Together
15. Black Rain
16. Live To Rise
17. Kristi*
18. Storm*
CD 2 – Covers
01. Swallow My Pride
02. Smokestack Lightnin'
03. Everybody's Got Something To Hide Except Me And My Monkey (John Peel BBC Sessions)*
04. Thank You (Falettinme Be Mice Elf Agin) (John Peel BBC Sessions)*
05. Come Together
06. Stray Cat Blues
07. Into The Void (Sealth)
08. Girl U Want
09. Touch Me
10. Can You See Me? (Friday Rock Show BBC Sessions)
11. Homicidal Suicidal (Friday Rock Show BBC Sessions)
12. I Can't Give You Anything (Friday Rock Show BBC Sessions)
13. I Don't Care About You (Friday Rock Show BBC Sessions)
14. Waiting For The Sun (Live)
15. Search And Destroy (Live)
16. Big Bottom (Live)
17. Earache My Eye (Live)
CD 3 – Oddities
01. Twin Tower*
02. Jerry Garcia's Finger
03. Ghostmotorfinger
04. Night Surf*
05. A Splice Of Space Jam
06. The Telephantasm
07. Black Days III
08. Karaoke
09. Fopp (Fucked Up Heavy Dub Mix)
10. Big Dumb Sex (Dub Version)
11. Spoonman (Steve Fisk Remix)
12. Rhinosaur (The Straw That Broke The Rhino's Back Remix)
13. Dusty (Moby Remix)
14. The Telephantasm (Steve Fisk 2014 Remix)*
15. One Minute Of Silence
* Mai rilasciate