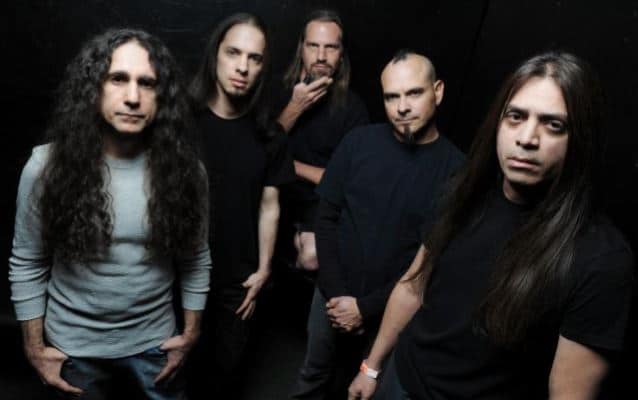 Comunicato di Hub Music Factory:
Tornano in Italia i FATES WARNING, tra le band pioniere del progressive metal, in grado di influenzare gruppi del calibro di DREAM THEATER, SHADOW GALLERY e VANDEN PLAS.
La band farà ben due tappe italiane il prossimo gennaio 2018, in particolare: sabato 20 gennaio al Legend Club di Milano e domenica 21 gennaio all'Orion Club di Roma, prolungando così il loro Theories Of Flight Tour. Special guest di questo imperdibile tour i nostrani METHODICA.
Quelle in programma ormai tra pochi giorni saranno delle date particolarmente speciali, un elogio al successo di "Theories Of Flight" dodicesimo album in studio della band, uscito nel luglio 2016.
I concerti previsti in questo tour saranno infatti registrati e andranno a comporre una raccolta live che sarà pubblicata prossimamente.
Riguardo questa nuova iniziativa Jim Matheos, chitarrista fondatore della band, commenta:
"Sono passati vent'anni dall'uscita del nostro ultimo live album 'Still Life', è tempo di aggiornarsi! A gennaio registreremo una serie di show che avranno luogo in alcune tra le nostre città europee preferite. Le migliori registrazioni saranno incluse in un live album che sarà poi pubblicato nel 2018. Anche se non abbiamo ancora deciso la setlist definitiva, stiamo già pianificando di fare uno show di due ore in cui includeremo anche un po' di "Still Life album". Spero di vedervi tutti ai nostri show!"
I FATES WARNING ad oggi, dopo vari cambi di formazione, sono: Jim Matheos alla chitarra, Ray Alder alla voce, Joey Vera al basso e Bobby Jarzombek alla batteria.
I METHODICA, band veronese che si è saputa distinguere nel panorama del progressive metal europeo; obiettivo non semplice da raggiungere, eppure la band è un ottimo esempio di come passione e talento abbiano portato a notevoli traguardi. Il progetto nasce nel 1996 ma è nel 2009 il primo vero debutto discografico con il full-length "Searching for Reflections" a cui sono seguiti l'EP "Light My Fire" nel 2012 e il secondo album "The Silence of Wisdom" nel 2015. La band ha aperto per artisti come SKUNK ANANSIE, URIAH HEEP, ANATHEMA, PENDRAGON, MARILLION, MOONGARDEN, DREAM THEATER e QUEENSRYCHE. I METHODICA sono Massimo Piubelli (voce), Marco Baschera (tastiere), Marco Ciscato (chitarra), Paolo Iemmi (basso), Marco Piccoli (batteria).
FATES WARNING
+ Methodica
20 gennaio 2017
LEGEND CLUB | MILANO
Apertura porte ore 20.30 | Inizio concerti ore 21.30
Ingresso 25 euro + d.d.p
Ingresso in cassa 30,00 €
Prevendite disponibili sul circuito Ticketone.
21 gennaio 2017
ORION CLUB | ROMA
Apertura porte ore 20.00 | Inizio concerti ore 20.30
Ingresso 25 euro + d.d.p.
Ingresso in cassa 30,00 €
Prevendite disponibili sui Ticketone e Box Office Lazio.
Lascia un commento
commenti