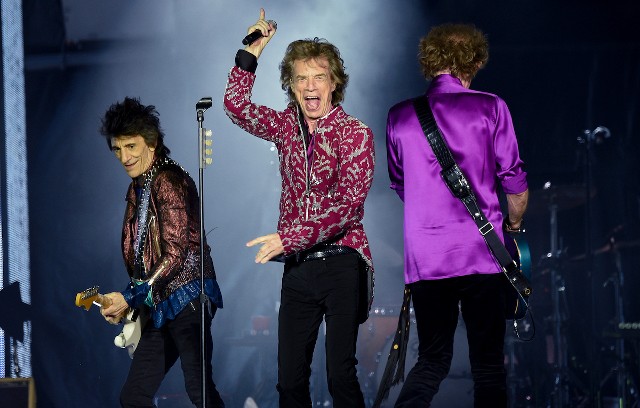 21 giugno 2022 – Lo ha detto e lo ha fatto, l'irriducibile Mick Jagger è tornato davvero alla grande e come promesso non ha voluto saltare la data di Milano allo stadio San Siro.
Fino a pochi giorni prima eravamo ancora con il fiato sospeso e con le dite incrociate. Ce la farà a superare in fretta il Covid quel leone britannico?
Ma lui Jagger, non è il tipo da arrendersi.
Allo stadio di San Siro si contano ormai le ore. La struttura è praticamente al completo per questa unica data italiana del tour denominato "Sixty" dei ROLLING STONES.
Alle ore 20.00 sale sul palco il gruppo spalla dei GHOST HOUNDS.
Sono una rock band statunitense costituita da più di 10 elementi. Suonano blues e naturalmente sono stati accuratamente selezionati da Jagger, che ama il genere da praticamente tutta la vita. 
Finalmente alle 21,15 e dopo una breve introduzione video in ricordo del compianto Charlie Watts, i ROLLINGS sono sul palco.
Jagger si lancia in una trascinante "Street Fighting Man" ed è subito chiaro che si è ripreso completamente data l'energia che trasmette al suo pubblico già in delirio.
Ancora una volta Jagger è padrone indiscusso della situazione nonostante i suoi quasi 79 anni di età.
Keith Richards e Ron Wood reggono ancora la sfida grazie al supporto ritmico del batterista Steve Jordan, che ha preso il posto di Watts, e del bassista Derryl Jones.
 I brani si susseguono uno dietro l'altro e Jagger non si concede pause in una bellissima carrellata di classici :
"19th Nervous Breakdown", "Out Of Time", "Dead Flowers" (con Jagger alla chitarra), "Wild Horses", "You Can't Always Get What You Want" e ancora "Honky Tonk Women", l'immancabile "Sympathy For The Devil", "Miss You", "Gimme Shelter" (con Jagger che duetta con la strepitosa Chanel Haynes), "Start Me Up", "Paint It Black" fino a naturalmente "Satisfaction".
E' confermato : gli inossidabili ROLLING STONES sono ancora la prima rock band mondiale.
Mick Jagger istrione come non mai, nelle sue giacche sgargianti, atleta, cantante, ballerino (o coreografo?) che fa davvero ballare tutti!
Per i fortunati presenti un bel ricordo da portarsi a casa con quello che sembra essere l'ultimo tour della band. 
Ma lo sarà davvero?
Staremo a vedere!
To be continued …